Do You Have Any of These Telltale Symptoms of a Liver Problem?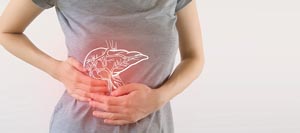 Table of Contents:
Understanding hepatitis
Understanding non-alcoholic fatty liver disease
Telltale signs of a liver problem
Your liver is an essential organ that does many important things to help keep you healthy. It filters out toxins and poisons, helps with metabolism and converting food into energy, and converts key nutrients into important body chemicals.
Different liver diseases and conditions can arise that affect your liver's ability to function the way it should, including infections like hepatitis and non-alcoholic fatty liver disease. Without treatment, these conditions can cause permanent problems for your health.
At Digestive Disease Care, with multiple locations in New York, our board-certified gastroenterology providers specialize in diagnosing and treating different liver conditions, including hepatitis and non-alcoholic fatty liver disease.
While these conditions differ in how they're treated, since they both affect the same organ, they can both cause similar symptoms. Here's a closer look at these conditions and some of the most common symptoms of a liver problem, so you can get the help you need.
Understanding hepatitis

When people talk about hepatitis, they're usually referring to inflammation of the liver caused by a virus. In America, there are three types of hepatitis that occur most often, each triggered by a different virus:

• Hepatitis A: Caused by a virus usually found in water or food contaminated with fecal matter from an infected person
• Hepatitis B: Caused by a virus spread through sexual contact, contact with body fluids, or contact with contaminated blood
• Hepatitis C: Caused by a virus spread in the same was a hepatitis B virus, but most frequently seen in healthcare workers

The good news is that for most people with viral hepatitis, effective treatments can help manage your symptoms.
Understanding non-alcoholic fatty liver disease

Non-alcoholic fatty liver disease (NAFLD) affects about one in three US adults, making it the most common chronic liver problem in America. NAFLD develops because of a buildup of fat in the liver.

NAFLD can progress into a more serious condition called non-alcoholic steatohepatitis (NASH). Currently, about 5% of American adults have NASH. This condition leads to scarring (cirrhosis), which prevents healthy liver function and increases your risk of liver cancer.

There are no medical treatments that can cure fatty liver disease, although there are medications that can help you manage the condition. Making lifestyle changes is the best way to reverse fatty liver disease, such as losing weight, switching to a healthy diet, limiting salt and sugar intake, and increasing physical activity.
Telltale signs of a liver problem

In the early stages of liver problems, you might not have any noticeable symptoms. As these diseases progress, however, and liver function is impacted, you may develop some of these telltale signs:

• Loss of appetite
• Unexplained weight loss
• Ongoing nausea and vomiting
• Bruising more easily than normal
• Jaundice (yellowing of your eyes and/or skin)
• Light-colored or clay-colored stools
• Dark urine
• Abdominal pain (especially on the upper right side)
• Fatigue and muscle weakness

If you have any of the above signs, don't wait to schedule a visit with a liver specialist. Our team evaluates your symptoms and orders the testing necessary to accurately diagnose your condition so you can get the best treatment possible.

To learn more about liver disease or to set up an evaluation, schedule an appointment online or over the phone at the Digestive Disease Care location in New York of your choice. We have convenient locations to serve you in Babylon NY, East Setauket NY, Forest Hills NY, Jamaica NY, Jericho NY, Lake Success NY, Melville NY, Mineola NY, Massapequa NY and New Hyde Park NY.